Independent board game publisher.
The Raven King designs and publishes board, card and war games. Our first three card games, The Illusionist, Move It, Soldier!, and A Very English Murder: Murder at Woodperry Hall are available now. Our next game design, designer Robert Hahn's Little Towne, will be published in late 2017. We are based in Waterloo, Ontario.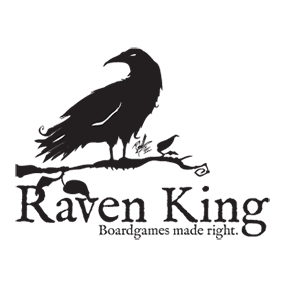 The year is 1955 and everything seems quite normal in the village of Thornbury and its most famous residence, Woodperry Hall. England has been at peace for a decade, the family and guests are ready for an evening meal, and the staff are ready to serve. Everything is simply tip-top ... except for the still-warm body found on the grounds of Woodperry Hall. Was it murder or suicide? Was it simply an accident, or something far more sinister? Oh, without a doubt it's murder alright. Who will be discovered to have commited the crime?
The year is 1944 and the world is at war. Around the globe, soldiers are ordered into the cauldron of battle to attack a well-prepared enemy and to try to capture the next village, hill, crossroads or ruined farmhouse. The stories and narratives that your create to describe the gallant efforts of your company of soldiers as they move against a skilled defender, across unknown terrain, will decide if those men achieve victory, or suffer defeat on the field of battle.
Set in late-Victorian London, the goal of The Illusionist is to become the City's most prominent performer by having the highest number of Prestige Points at the end of the game. Prestige Points are earned by creating/assembling astounding illusions and "performing" them at various types of theatres in the city. Strategy, timing and elements of luck all play a role in your rise to prominence, as do the political machinations and jealousy of your peers. Who will stand on stage as the finest magician?
Overviews and descriptions of the games we have under development.
Some thoughts and opinions about board games, war games and card games.
Talk about, and praise for, some of our favourite games.
Interesting notes about the business of designing and publishing games.